A Mattress For All Shapes and Sizes
February 14, 2019
Big Fig Mattress is the first (and only) mattress designed specifically for bigger figures. But what about other figures? You may be thinking that the Big Fig would be the perfect fit for you, but what about your partner who is not plus size? Regardless of body shape or size, the Big Fig Mattress is the perfect combination of comfort and support. Thousands of mixed size couples love their Big Fig Mattress! Keep reading to hear about some of their experiences.
Miranda & Kevin
When my husband, Kevin, and I were recently searching for a new mattress, my number one concern was finding something that met both of our needs. I am short and plus size and my husband is tall and thin. I had heard great things about Big Fig Mattresses and was convinced that a Big Fig was the best option for my needs, but I wasn't so sure it would work for my husband. I love a firm mattress that supports my body with little to no sinking when I lie down. Kevin prefers something soft and plush.
We searched countless mattress stores and even found a store with a high tech setup reading your bodies with sensors while lying down to determine which options were best for you. The test showed us what we already knew – we had very different needs. It seemed like the only option available to us was a custom mattress that was thousands of dollars over our budget.
After a lot more research and speaking to Big Fig Mattress owners, we decided to go for it. I promised my husband that if he didn't like it we could either purchase a soft mattress topper for the bed or return the mattress. I knew from the first night that this was the PERFECT mattress for me and my husband was convinced by the third night. We have had our Big Fig for around six months now and we have never needed to purchase a mattress topper.
Here are a few of the things we love most about the Big Fig Mattress and our experience:
If one of us wakes up or moves around in bed, the other does not wake up. The firm mattress and sturdy frame means that your movement doesn't impact your partner's sleep.
We have never slept better in our lives. We rarely wake up at night and wake up feeling well rested. These new levels of energy have been life changing, allowing us to function at a higher level every day.
My lower back pain is gone. For years I have had a nagging lower back pain that never really went away. It wasn't anything unbearable but it was always there. I have not experienced that pain at all since we switched mattresses.
It is extremely high quality. After months of use, our mattress still looks and feels like the day it arrived. I am convinced this product will last us for many years and even if we do have issues in the distant future, Big Fig offers an incredible 20-year warranty.
There is a 120 night trial period and return policy allowing you to be completely sure you love the mattress before committing to keep it. This trial period removes all of the risk from buying a mattress online.
I could write for days about how much I love this company and what it is doing for the plus size community, but I'll leave it at this… If you are considering this mattress, BUY IT! I don't think you will regret it.
-Miranda Schultz, The Plus Life Blog
Read Miranda's Full Big Fig Mattress Review
J & Corissa
About a year ago, I made the move from Massachusetts to Kansas. Moving that far from home meant having to part ways with many of my usual comforts. I really had to narrow down what kinds of belongings, items of clothing, and keepsakes I would bring with me to make me feel at home. It was hard. I definitely had to let go of many items that I had become so attached to.
I had to ask myself - what makes me feel the most at home? In reality, it doesn't come down to all of those random items I left back in Massachusetts. It's my bed. Think about it. How many times have you heard people say "I just can't wait to get home and sleep in my own bed." It's not just that your bed at home suits your needs. It's about that bed being the one space where you feel your safest and most relaxed. Your bed can make you feel the most at home.
I was stunned when I first experienced sleeping on the Big Fig Mattress. I felt at ease. Supported. Relaxed. I felt right at home. I'd never slept in a bed made specifically for my plus size body. There's something truly magical about a good night's sleep. Your body has the chance to recoup. Your mood is elevated. I felt right at home sleeping on that Big Fig. Moving so many miles away from the place that I grew up wasn't nearly as scary when I felt so comfy at night. It's not just about a bed, it's about a space that feels like it was made for you - and I get that space every night when I go to sleep on my Big Fig.
-J Aprileo, Comfy Fat Travels
Read Corissa's Full Big Fig Mattress Review
Natalie & Terry
I have had my Big Fig Mattress for more than two years now, and it's completely changed the quality of sleep I get, and the way I am able to live my life. Before Big Fig, I slept on mattresses that were either too soft or too firm, which left me with neck and back pain and also had me feeling exhausted all day. As someone who has a demanding full time job and a side hustle, every minute of my day needs to be maximized. I have no time to be tired or checked out. But now that I have a mattress that was made for my plus size body, I get the best sleep of my life, and I am able to wake up completely centered and ready to take on whatever the day has in store. I love that the Big Fig is the perfect combination of firm and soft. My body doesn't sink into the mattress, rather, the top of the mattress hugs my curves and supports my body—just like some of my favorite dresses.
When my boyfriend Terry—who is 6'2" tall and thin—moved in with me last fall, I wondered what he would think of the Big Fig, and if he would find that it offered him the same benefits of comfort and sound sleep.
When Terry slept on the Big Fig for the first time, he didn't know that it was a mattress made especially for bigger figures, but he did notice a difference in how he slept. The mattress he had once owned was too soft, and even as a slim guy, he would sink in to it. Before I told him about Big Fig, he said he would have never thought that different body types had different sleeping requirements and needs.
"I think it's great that Natalie gets the best sleep, and although I am not plus size, I also find the mattress to be incredibly comfortable and unlike anything I've ever slept on. As someone who naturally wakes up early, I could sleep until noon on the Big Fig," Terry says.
Together, we sleep comfortably! If either one of us turns over or moves in the middle of the night, it doesn't wake the other person because the mattress is so supportive. We are confident that the Big Fig Mattress will last us for decades, and we are so glad because we're currently having the best sleep we have ever had, even though we have different body types.
-Natalie Craig, Natalie in the CIity
Read Natalie's Full Big Fig Mattress Review
Matthew & Dave
I can't say enough about our Big Fig Mattress. As two big guys, our old bed never really felt sturdy, or roomy enough. Even though it wasn't that old our previous mattress was sagging and the edges were completely compressed when sitting at the edge. To say we weren't getting a good night's sleep is an understatement. In the past 10 years, we've slept in a full bed, a queen bed, and knew it was the time to upgrade to a king size bed.
From the first night we slept on our Big Fig, we knew we made the right decision. The mattress started out firm, firmer than we anticipated, but within the first few weeks it settled out into the perfect combination of comfort and support. I'm still surprised every time I sit on the edge to tie my shoes, or fold laundry, of how supportive the mattress is edge to edge. So many of our friends have asked about our experience, and we keep encouraging all of them to make the purchase. A mattress is a serious investment, especially a quality mattress, and the Big Fig is very much worth it.
One of the added benefits of our Big Fig Mattress is that we actually enjoy laying in bed and spending lazy Sunday mornings on our phones, drinking coffee, and cuddling with the cat. Getting a new mattress was also a really fun excuse to go shopping for new sheets, a new duvet, and down comforter. A little bedroom refresh felt great.
Truthfully at first I wasn't sold on the idea of a mattress for bigger people, or that I needed one. I've always been a big guy and thought that traditional mattresses performed just fine. Boy was I wrong. Our Big Fig mattress is leaps and bounds better than any mattress I've had. It's sturdy and comfortable, and I'm confident it will last for years to come, especially with the warranty that's offered. For anyone who is unsure if this is the mattress for them, don't hesitate. You'll be happy you made the switch.
-Matthew Simko, Simko Says
Read Matthew's Full Big Fig Mattress Review
Alysse & Gio
I have been sleeping on my Big Fig Mattress for over two years. I spent most of that first year sleeping alone and all of the second year sleeping with my now fiance, Gio. One of the things that I liked most about the Big Fig initially was that I felt like it supported me. I could tell it was made for a plus size person. My fiance is not plus size. And while Big Fig is amazing for couples where both individuals are bigger figured, there's one big benefit for mixed size couples too!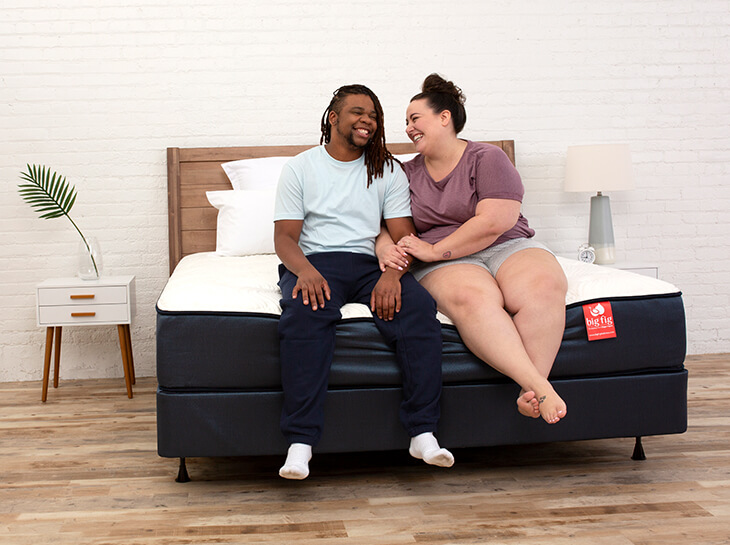 If you sleep in a regular mattress with a sleeping companion who is smaller than you, it's not uncommon for the mattress to dip down on that one side. You can flip the mattress, but your mattress essentially has a permanent dip in it. I love sleeping on my Big Fig Mattress with Gio because I know that we won't ever have to worry about that issue. My side has the same firmness as his side. Plus, there's no motion transfer so he doesn't feel me move about and I don't feel him get up when he leaves earlier than me for work. There's a lot of thoughtfulness and research that has gone into the design of the Big Fig Mattress. They have solved how to support couples of the same size and different sizes. I always get the question from folks, 'will the Big Fig Mattress work for couples who are different sizes?' And my answer is, "HECK YES!"
-Alysse Dalessandro, Ready to Stare
Read Alysse's Full Big Fig Mattress Review
No matter your shape or size, everyone deserves to sleep well and wake up rested. While it may seem like a challenge to find the best mattress for couples with different weights, you heard it from them - Big Fig is the answer! With a hybrid construction of springs and foam to provide the ultimate mix of comfort, support and durability, the Big Fig Mattress ensures a quality and comfortable night's sleep for many years to come.