Ashley Nell Tipton

: Best Sleep EVER!
Big Fig Mattress Review
November 19, 2018 by: Ashley Nell Tipton
There are so many reasons why I love my Big Fig Mattress, but let's start with the facts first. Big Fig Mattresses are a hybrid construction, using both dense foam and spring layers to provide support and comfort to anyone. Their mattresses are designed to support heavier individuals and provide all the durability to last many years. The Big Fig Mattress can support individuals that are up to 500 lbs or couples weighing up to 1,000 lbs.
Their mattresses use high density foams, button tufting, a really good coil system and edge support to make your night's sleep sound. In addition, Big Fig offers a extra heavy duty foundation and frame for larger framed people, like myself and my boyfriend. The cover of the mattress is a super soft knit fabric that is inviting enough to sleep on without a sheet. And the cover fabric is blended with a ThermoGel material that helps with temperature regulation by dissipating body heat which means no more sweaty nights sleeping, yay! This mattress gets fantastic airflow because of its design and as a "hot" sleeper, this has helped me a lot. Big Fig Mattress offers a soft bouncy feel with the perfect firmness to match.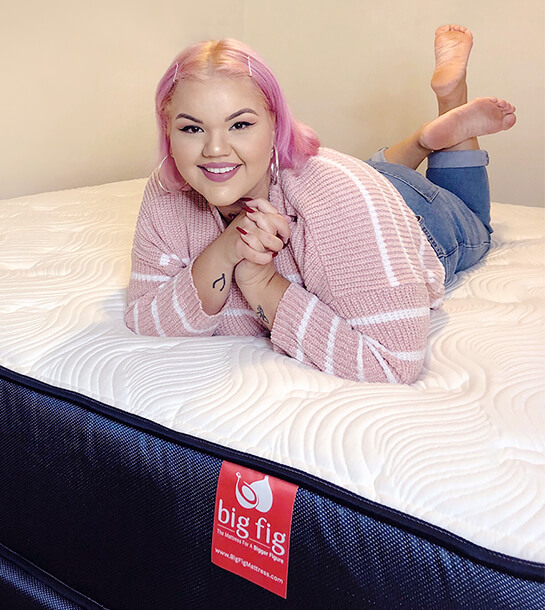 My first Big Fig Mattress was a queen size mattress and I really loved it. As my life changed, I wanted to get a larger bed to accommodate not only myself, but my partner as well. I ended up upgrading to a king size mattress and have no regrets. The first night we slept in our new bed was had the best nights sleep ever! It not only supports my weight, but the weight of my partner comfortably. If one of us is changing positions during the night we don't have to worry about waking the other one up because the mattress supports our movements and doesn't disturb the other person. There is absolutely no motion transfer which is great. It was amazing how comfortable the larger size bed was and how well we now sleep. No regrets on the king size upgrade at all!
Big Fig was created with durability and support for individuals who carry more weight and it does not disappoint. I love Big Fig Mattress because it's the first mattress I've been able to confidently jump on without worrying about the springs popping out or the box springs breaking. Bigger people want to jump on beds and be silly too and there's not reason we shouldn't be able to! With my Big Fig Mattress I'm able to not only rest, but have some fun too which is a refreshing feature in a mattress.
My personal and work life gets busy, so I always look forward to winding down and getting cozy in bed. I feel like investing in a good night's sleep is investing in a Big Fig Mattress. Sleep is so important for our body's rest and recovery, so there's no reason to continue sleeping on a mattress you're not happy with. Back pains? Go Big Fig! Sleepless nights? Go Big Fig! Bed making too much noise when adjusting a night? Go Big Fig! Big Fig was designed to last and I firmly believe that anyone who gives Big Fig a try will not be disappointed. Sleep well babes, I know I will ;)
Xoxo,
Ashley