This test uses a split ball form that cycles up and down to simulate someone sitting directly on the mattress. As with the rollator test, the goal is to measure changes in surface height and firmness over the 100,000 cycles (simulated 10 years) of the test.
In terms of height, a loss of height of up to 1.75" for an innerspring mattress is within generally accepted industry standards. Big Fig lost .3" in height in this test.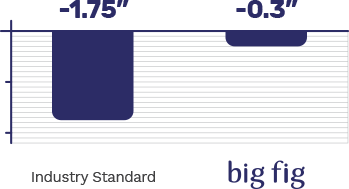 For firmness, softening of up to 15% is within acceptable industry standards. Big Fig lost 3.45% of its firmness during the test.